May 5th 2003 - 09:26:45pm
Apr 22nd 2003 - 06:17:58am
Apr 21st 2003 - 06:32:16pm
Welcome
Once again the membercount has risen, so the clan now has 12 members.
The 2 new members are [Laus]Slayer and [Laus]MasterEP.



WELCOME GUYS!
By :
[Laus]Rednex
Apr 17th 2003 - 12:00:00am
Apr 17th 2003 - 12:00:00am
Apr 16th 2003 - 02:01:03pm
Happy Easter!!
Happey Easter from the [Laus] Clan.
By :
Pingvin
Apr 9th 2003 - 06:23:26am
New map
New map posted for download. The map is Horror by MCinBigD, Thnom, No_Fear, Lt1.
By :
[Laus]Freshman
Apr 8th 2003 - 10:11:44am
Tale of Terror !!
Last Friday evening, Silicon Ice Development had a small gathering on TeamSpeak2 to discuss the progress of our current development cycle, get an update on the play testing and distribution. Each team member in attendance gave us a synopsis on development. Density reports having pinpointed some code that was server crashes and removed it. The bomb code is still being worked on, as is the explosion for when the timer reaches zero. TwentySeven is nearly finished with the ARIES2 code, that will use new models for hit detection once implemented.



Miles and Bladekiller have been busy reskinning models, heads and weapons. Currently, there is currently one set of skins (TAG & SWAT) completed. We will also be reskinning the arms/hand models for the next release. CrazyButcher has completed the new G36 model, as Miles has been working on skinning it. Both Bladekiller and Miles are still working on creating more heads. Since the team skins are going to be set by the level designer, gamers will only have to choose male or female and skin color. Thus, adding more heads will give gamers a bit more variety. In addition to all the skinning going on, we are also working on getting a few different bomb models created. Currently, there are three under development, from a block of C4 attached to dynamite, to a briefcase bomb. We have also remodeled and skinned the silencer.



Currently there are fourteen levels that are undergoing beta testing. Some of these levels, as we have mentioned before have very few changes, while others are complete rebuilds or all new levels. SweetnutZ has released an updated version of Casa, that is being used for Bomb/Defuse. He also released Siberia for internal testing, still some minor work to be done, such as the addition of locations on the level. Together with the currently levels SID has created, we are at approximately 35 levels. Some of these levels will not make the final cut, based on how we are going to distribute the next version. Guess you should brace yourself now, there will not be an upgrade released, you will be required to download an all new version of Urban Terror once there is an official release. Levels will be selected based around three categories, Team Survivor, Capture the Flag, and Bomb & Defuse. There will also be some "other" levels added, that suite multiple game modes.



NOTES: You will notice some new features and information in the screen shots. Featured today are ut_crenshaw by INVIS, ut_casa by SweetnutZ and ut_precinct by WetWired. The scoreboard in the top right corner can now reflect unique team names. You will also notice a "The BOMB has been Planted!" message. You can now point your crosshair at a teammate and it will reflect their name, along with health status (notice green bar).
By :
Pingvin
Source :
Urban Terror
Apr 6th 2003 - 02:11:58pm
Apr 1st 2003 - 10:39:34am
The future of Urban Terror ?
As some of you may know, I'm practically addicted to Dragonne's radio show. That has resulted in a close friendship with Drag, and we often chat about this, that and Urban Terror on IRC. Last night is was talking to him, and he showed me this picture: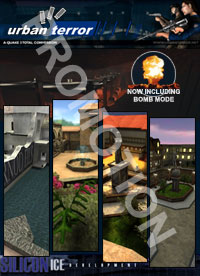 The image is the front of a DVD cover (you know, the kind that commercial games are shipped in). I tried hard to get him to spill his guts, but with no luck. I'll see if I can't manage to get some more info in the following days. Maybe I'll even get a backside of the cover.
By :
[Laus]Rednex